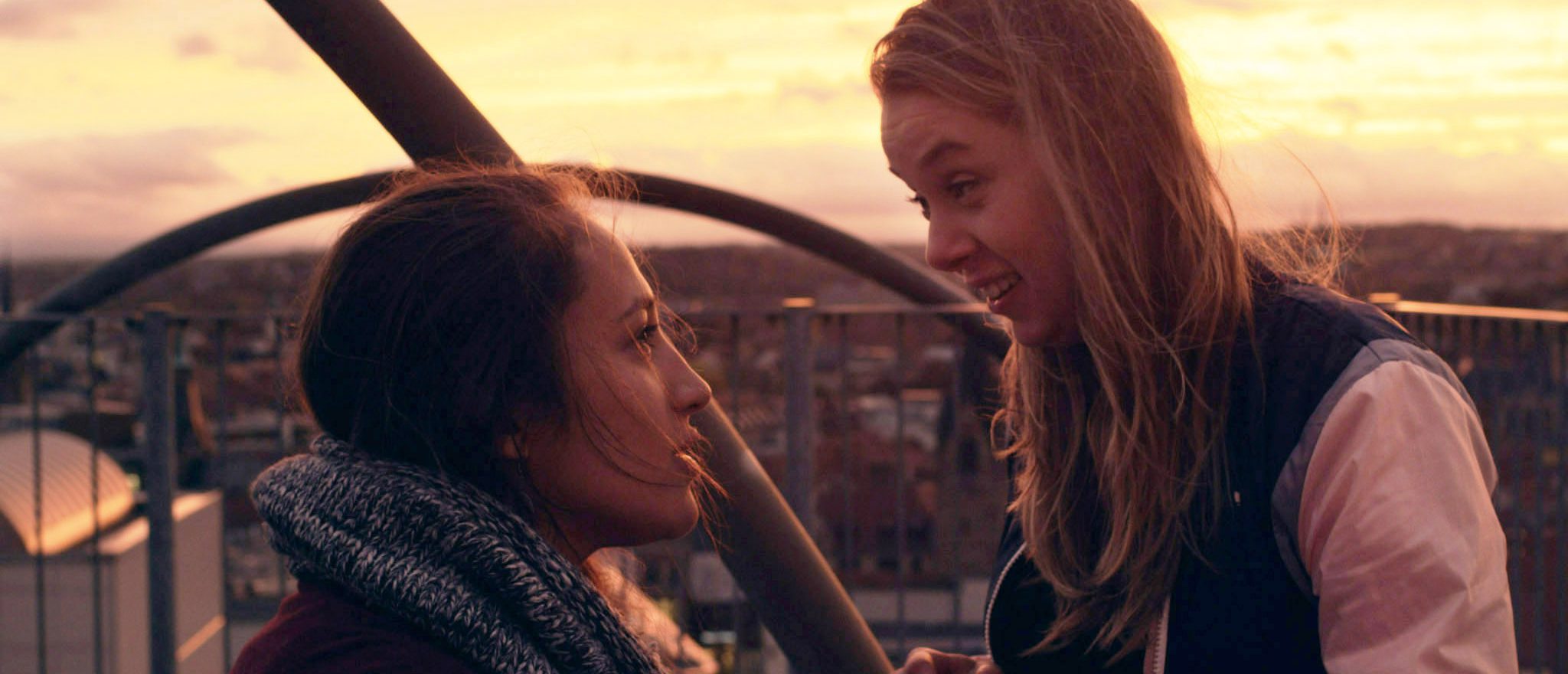 Neverland Now
Short Film, Drama, 2015, 19 Min
With her reckless behavior art student Kalina (21) provokes her fellow students, her teachers and sometimes even her only friend Ruth (24). Kalina convinces Ruth take a spontaneous trip to Portugal the next day and they euphorically head out to celebrate their plan. After a half-hearted attempt to steal a car they end up on a big student party. When Ruth voices doubts about the planned trip, the night takes an unexpected turn.
Neverland Now – a short film by Georg Pelzer
With Anna Herrmann, Lo Rivera, Michael Wächter, Tobias Schormann, Hagen Ritschel and Clara Liepsch.
Cinematography: Sven Jakob-Engelmann
Produktion management: Henrike Schneider
Art Department: Lucian Patermann, Claudia Heinze
Editing: Eva-Maria Arndt
Sounddesign: Benjamin Voßler
Music: Philipp Wartenberg
Written, produced and directed by Georg Pelzer
AWARDS AND SCREENINGS
14th Cornwall Film Festival, UK // Best Student Short Film
27th Filmfest Dresden, Germany // 2nd Place Regional Focus
Filmplus 15, Germany // Vornominierung Förderpreis Schnitt 2015
Uni Shorts Int. Student Film Festival Auckland, NZ // 2nd Place
12. FILMthuer 2016 Erfurt-Jena // 2. Platz
6th IDSFF Kerala, India
14th International Filmfest Eberswalde, Germany
6. Filmkunsttage Sachsen-Anhalt, Germany
16th Izmir Film Festival, Turkey
32nd International Festival "Sarajevo Winter 2016", Bosnien-Herzigovina
27th Istanbul International Short Film Festival, Turkey
Flimmerzimmer Berlin – Film School Battle #1, Germany
17. Landshuter Kurzfilmfestival, Germany
Ffresh – International Student Film Festival of Wales
39. Grenzland-Filmtage Selb
4th Clujshorts – International Short Film Festival, Romania
13. Kurzfilmfestival KURZSUECHTIG Leipzig
10th SCENECSInternationa Debut Fim Festival, NL
Near Nazareth Film Festival 2016, Afula (Israel)
7. City Crash Festival, Leipzig
Siloe Film Festival 2016 (Italy)
Shorts at Moonlight 2016, Frankfurt
Kurze an die Wand, Bonn
Golden Anteaters – 10th International Film Festival Lublin, PL
3. PiGrecoZen FilmFest, Ancona (Italy)
TV Screenings
MDR (Public Television, Germany)